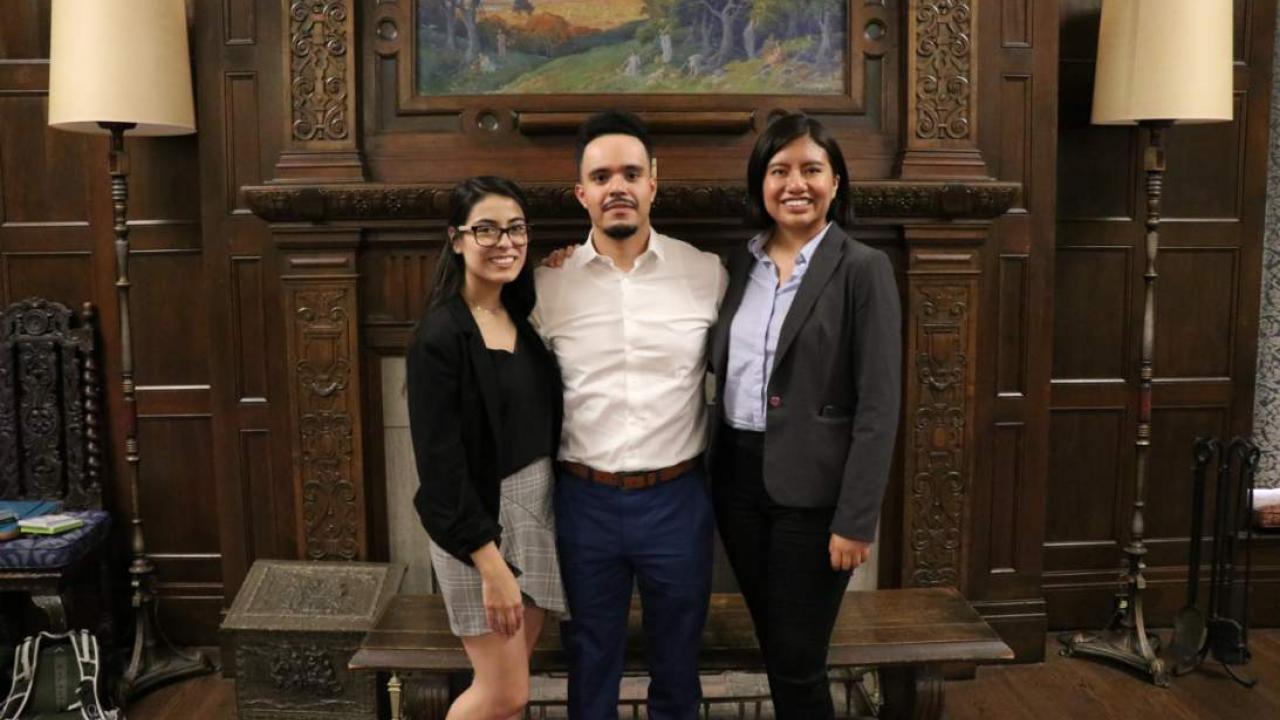 Leadership embodies the University Honor Program's mission to

empower oneself and others to act intentionally and transform society.
Ivan Rocha, a psychology major entering his fourth year, attended the 2019 APRU Undergraduate Leaders' Program (ULP) at the University of Oregon in July. The Association of Pacific Rim Universities, APRU, is an organization for Asia-Pacific schools to promote research. Students are nominated to attend the summer event, where they are inspired to use their voices of knowledge and innovation. This opportunity is available through the Center for Leadership Learning, a UC Davis program that works with the University Honors Program to help students develop their leadership skills and talents. Other UHP students have attended previous conferences, including Romae Aquino and Joleen Cheah who participated in the 2018 APRU conference.
Over fifty national and international students participated in this year's APRU conference.
Ivan entered the University Honors Program as a transfer student. He became involved in CLL through the Diversity Leadership Development Program (DLDP) after taking a Directed Group Study course (SAS 198) with CLL's director, Christie Navarro. DLDP is an option for year three UHP service requirements, and Ivan was excited to learn in class that he was nominated to attend the APRU conference.
Ivan represented UC Davis and UHP at this year's annual event, where he confronted social predicaments with over fifty other students from different universities across the nation, and the world.
I left California feeling scared [and] inferior due to my nationality and accent, and not capable of performing like other students in the program; however, once I arrived [in Oregon] and had the opportunity to meet everyone in the program, all those feelings disappeared.
This year's theme was "Fresh Approaches to a Gordian Knot: Student Leaders Untangle Pacific Rim Environment, Health and Inequality Challenges". When asked to describe his experience, he said it was life-changing. By working with different students and leaders from different countries, Ivan gained new perspectives about who he is, about others, about life, and the world. The APRU program pushed him to "do better [and] be better as a person [. . .] to believe in myself [and] my potential." His experience, however, was more than a leadership lesson. He also gained lifelong connections and friends, who he still stays in contact with every day over the phone or via email. He reflects that "the opportunity to participate in the APRU program has been the best experience I have ever had." Ivan came back to California as an entirely new person. He is no longer afraid and he is hungry to take on any new challenges or opportunities he is given.
[My] background shouldn't be a barrier in life; my actions, my decisions, and my effort are what will define my future.
Another realization Ivan learned from this experience is what he wants to share with other students: the best solutions to problems that affect our communities and our planet can be found through unity, communication, respect and responsibility. "Despite skin color, race, ethnicity, culture, beliefs, socioeconomic status, etc. we are all equal and we all need one another because unity is where change begins," notes Ivan. His final words of wisdom are inspiring as he continues to grow and develop into a future leader of tomorrow.
Category
Tags