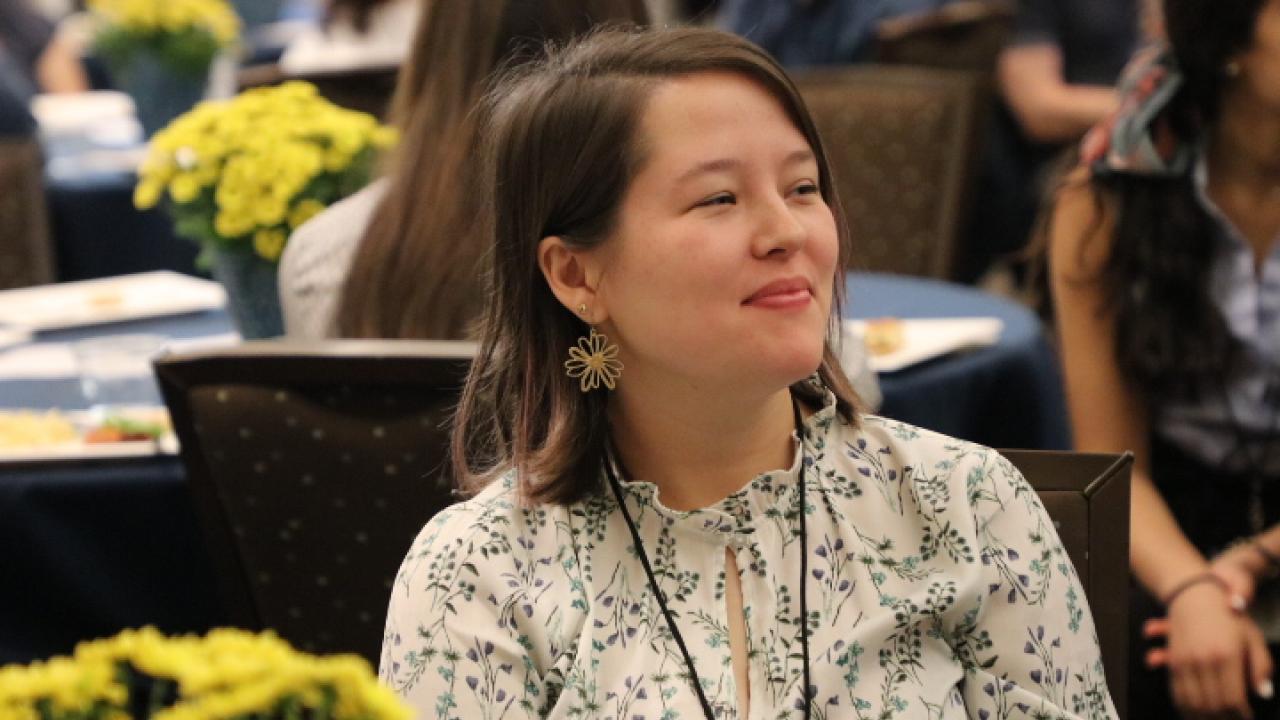 Honors alumni and current Honors students came together in celebration of 50 years of intellectual risk-taking, leadership in a diverse and complex world, and action on behalf of positive social change.
"It is not the program itself we are celebrating, but it is all of you that we are honoring and celebrating this weekend. You are what make this program," said Director Dave Furlow proudly during Friday night's alumni dinner. The 50th Honors Celebration brought together new and old faces through an alumni dinner, alumni-student luncheon, and various demonstrations and tours. 
While the celebration itself was a single weekend, UHP has been celebrating all year long through newsletters, exclusive alumni reflection articles, photos on social media, and more. The initial planning committee for the UHP 50th weekend included previous directors, former honors faculty, and current faculty and staff, with meetings nearly every month. Small ideas eventually turned into large festivities that many got to experience.

On Friday evening, UHP hosted an alumni dinner. Alumni ranging all throughout the 50 years exchanged laughs, hugs, and memories. It was heartwarming to see the many guests share old and new experiences, as well as check out the table full of memorabilia and bring their own. One alum wore his Integrated Studies shirt and boasted, "This is why I saved this shirt for so long!" Some even went on that night to relive their old memories with their classmates at the local spots in downtown.
"The legacy of the honors program was apparent that evening as different generations mingled and shared experiences. There was a sense of one big family." -Shelbie C., UHP 50th Program Assistant
The next morning, guests had the chance to get an exclusive tour of the Mondavi Center, or get a literal taste of the new Honors courses through Dr. Tanya Kuhl's  Design of Coffee lab. The weekend closed off with a student-alumni luncheon mixer wherein many current students sat with alumni and faculty and compared stories and received valuable advice. The room also heard addresses from Chancellor Gary May and Vice Provost and Dean of Undergraduate Education Carolyn Thomas. Guests posed under gold balloons with smiles just as bright. 

"Seeing the alumni made the history and prestige real, sort've 'Wow! This program really evolved over the last 50 years.'" - Aislinn M., Events Coordinator
While the prestigious program first began as Integrated Studies in 1969 with only a small amount of classes offered, it has grown beautifully into the University Honors Program--now challenging and supporting over 700 students, yet still keeping the integrity of its humble beginnings. The University Honors Program thanks all students, professors, parents, and everyone else who has helped shape the program into what it is today. As Dr. Furlow said, you are what make this program.
For more UHP 50th photos, please visit our photo galleries.
Category
Tags