2022 Graduates Receive UHP Awards
Every year, the University Honors Program awards students for implementing values of UHP: leadership, community service, and research & innovation. These are our 2022 winners.
2022 UHP Student Leadership Award: Harjeet Mann, Biological Sciences
The UHP Leadership Award identifies one student who has exhibited leadership, excellence, and a dedication to being a positive, driving force in society. This student has taken the resources and skills they have learned throughout life and through UHP to be a trailblazer. This year's award recipient is Harjeet Mann, a Biological Sciences student within the College of Biological Sciences.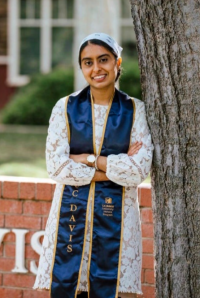 Harjeet focused her time on issues of health care through three different leadership roles in a broad context, from campus to Nor Cal to international settings. On the UC Davis campus, she served as ASUCD COVID-19 Executive Staffer focusing her work on creating content to inform students on the virus and how to protect themselves. Within the Nor Cal community she serves as president of the Bhagat Puran Singh Health Initiative at UC Davis, which serves the Northern California Punjabi community through free health screenings and health education. Stepping to a global setting, she is a co-founder of Nishkam Health Ambassadors, a group that focuses on empowering youth from underserved communities in India to take care of their health. In reflecting on what it means to be a leader, she had this to say:
"For me, leadership is taking initiative where gaps need to be filled, whether that might be something small like spending extra time at a clinic to clean or taking on a larger role and the task of leading a team initiative from start to finish. Leadership is not something that can be achieved overnight but is a quality one can work towards throughout one's lifetime, through experiences, and gaining new perspectives. Leadership means taking out time to understand your community's needs and to be there just to listen so that you can enrich your understanding of how you can better serve your people. Being a leader means speaking up when something seems wrong, staying committed to something even when you might be the only one who believes in it, and ensuring that everyone including yourself is growing in the process!"  
2022 UHP Student Community Service Award: Diana Garcia Perez, Sociology
The UHP Community Service Award recognizes one student for exhibiting a commitment to giving back to the community during their undergraduate career. All UHP students understand the responsibility to serve the community, but some students truly go above-and-beyond in their service. This year's award recipient is Diana Garcia Perez, a Sociology student within the College of Letters and Science.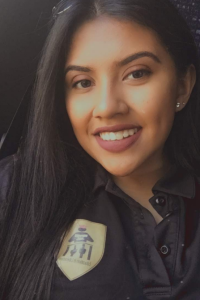 Diana had a clear focus on working with system impacted youth through a humanist lens. In that area, she worked with two separate organizations: The Prison Education Project and the National Center for Youth Law. In addition to her hours with those organizations, she completed her Signature Work research within the Prison Education Project's Aftercare Program. Her work is titled, "Supporting Previously Incarcerated Youth During their Reentry: A Project to Support the Northern California Aftercare Program." When asked to reflect on her experiences she stated:
"My community service experiences have not only impacted both the community and myself. To begin they impacted the community because I was able to be of service to others. In general I was able to use my privilege of attaining an education to learn valuable knowledge that I could help spread to marginalized communities. This meant that many youth were able to learn about college, jobs, varying skills, etc. Thus, I had the opportunity to be of service to these youth, which also impacted me. Knowing that I could make a difference in even just one life is rewarding to me"
2022 UHP Research and Innovation Award: Nathifa Nasim, Neurobiology, Physiology and Behavior
Every UHP student is encouraged to engage in research or scholarship in which they have the opportunity to apply classroom experiences to real-world situations. Within UHP and Undergraduate Education, we are incredibly proud of all that our students accomplish. The UHP Research and Innovation Award acknowledges one student's dedication to academic rigor, creativity, learning, and exploration through a research or creative project. This year's award recipient is Nathifa Nasim, a Neurobiology, Physiology and Behavior student within the College of Biological Sciences. 
Nathifa demonstrated a clear understanding of how Alzheimer's Disease fundamentally alters a patient's interaction with the world and self in addition to current limitations and future possibilities for research within the field of Neurobiology, Physiology and Behavior. Nathifa had this to say regarding her current research endeavors: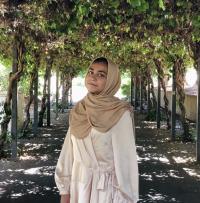 "There has recently been an important paradigm shift in neuroscience connecting neurodegenerative diseases to overactive brain immune cells, microglia, through chronic neuroinflammation associated with disease. This provides a valuable new angle through which to approach understanding Alzheimer's and possible treatment. My project aimed to explore this shift, investigating the role of microglia in Alzheimer's through the soluble epoxide hydrolase enzyme, sEH. My findings offer critical support for this new avenue of research and the further exploration of therapeutics that align with the principle of reducing neuroinflammation for treating neurodegenerative diseases. Adding to this emerging aspect of the field is critical to both build an understanding of the disease as well as to provide hope to patients with currently untreatable diseases."
Primary Category
Tags