Comparative Literature and Environmental Science & Policy Faculty Win 2022 UHP Outstanding Faculty Awards
Every year, the University Honors Program invites students to nominate UC Davis faculty for Outstanding Teaching and Faculty Mentorship Awards. These are our 2022 winners.
Outstanding Teaching Award: Timothy Parish, Comparative Literature Faculty Member
One of the most unique aspects of the University Honors Program is the innovative, discussion-based, honors courses. UHP students have the opportunity to engage with their professors and peers through these honors classes in a way they may not be able to in a large, lecture-style course. The UHP Outstanding Teaching Award recognizes a professor nominated by students for being an inspirational and engaging part of the honors experience. 
This year's award recipient is Timothy Parish, a professor within the Department of Comparative Literature and director of the Undergraduate Study of Comparative Literature. Timothy Parish was chosen by UHP students for his dedication to education and his interactions with students. One nominating student had this to say about the professor: 
"He has been one of the most enjoyable and inspiring professors that I have had this entire year at UC Davis. He always encouraged students to explore their interests in the material at their own pace, without having to worry too much about understanding it to its fullest. He taught in a way that was very approachable and I have many fond memories of the class thanks to his personal stories and reenactments of the readings that always managed to make my day. He truly deserves this award, as he has changed my approach to literature completely and opened my mind to new genres I wouldn't have approached before."
Outstanding Mentorship Award: Tracy Winsor, Environmental Science & Policy Faculty Member
The University Honors Program provides students with the opportunity to connect with faculty and develop mentor relationships that often shape their undergraduate careers. The UHP Faculty Mentorship Award seeks to acknowledge the dedication of faculty in being a guiding force for undergraduate students during this crucial period of academic and professional development. Faculty receiving this award have provided excellent mentorship by being responsive, accessible, helpful, and impactful.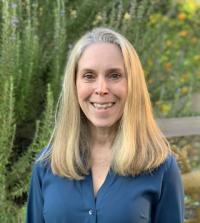 This year's award recipient is Tracy Winsor, an affiliated instructor within the Department of Environmental Science and Policy. The student who nominated Tracy Winsor has been mentored by her for over two years. This student stated the following about their mentor:
"This professor is an individual who has truly shaped my growth and journey at UC Davis. I took her class my first quarter of the pandemic, and her support, encouragement, and teachings helped me persevere through very difficult home conditions and sparked my interest in pursuing law. I quickly knew that they would be an incredible mentor for my UHP Signature Work. She has embodied the UC Davis slogan of "come as you are" by pushing me to embrace myself and my story, and celebrating how far I've come in my journey. I am beyond grateful to have attended an institution and been part of a program that has led me to find such an impactful mentor. She is someone that I wholeheartedly believe every student should meet and interact with, because she is kind-hearted, honest, humble, and a true inspiration to realizing the great potential of our future."
Primary Category
Tags