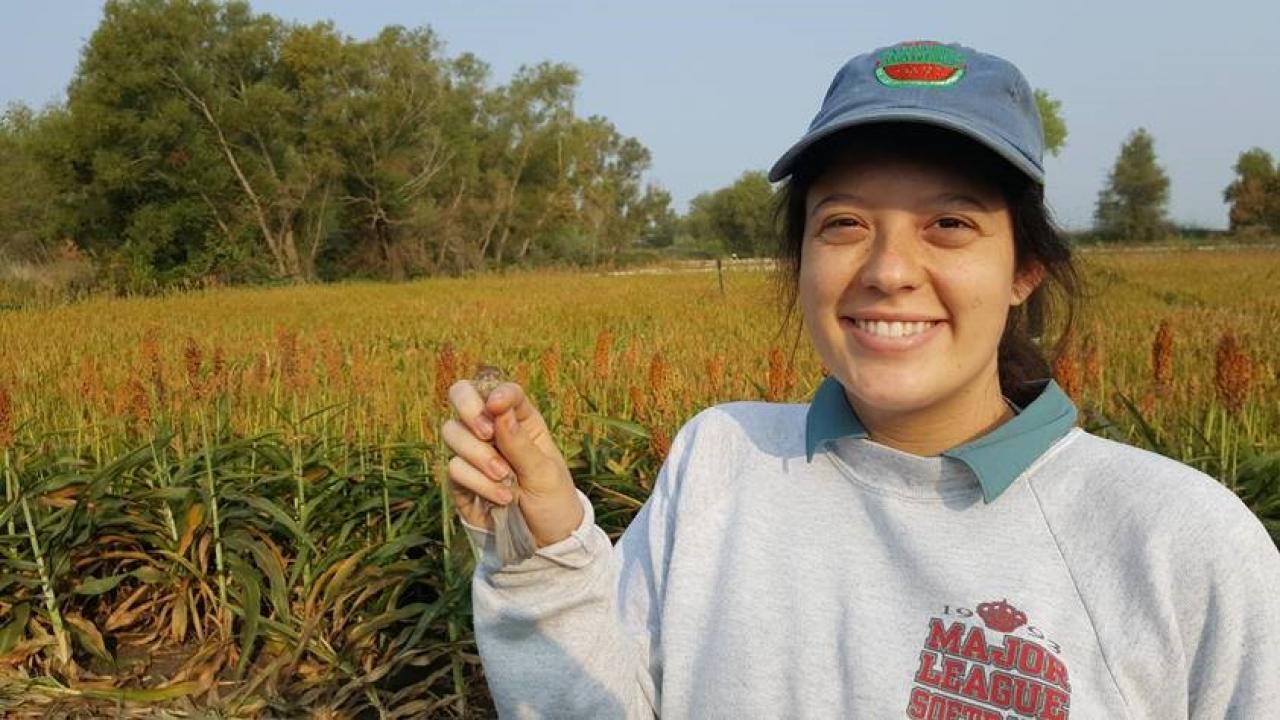 Through exploring the mission of the research institution, Honors students are able to create projects that positively impact our campus and communities. 
For her Year 3 Individually Designed Project, Danielle Fradet, Wildlife, Fish, and Conservation Biology '20, helped curate the Pacific Flyway educational exhibit at the Museum of Wildlife and Fish Biology. Utilizing the UC Davis Peter J. Shields Library resources, services, and librarian expertise, Danielle was able to gain special access to research items and engage more deeply in research.  By connecting with faculty members on campus, her third-year project allowed her to explore research, museum curation, and the resources at UC Davis, as well as take ownership over something that was entirely hers.
UC Davis University Honors Program Student Danielle Fradet checking a nest box.
Since her first year, Danielle has been involved with the Museum of Wildlife and Fish Biology here on campus. She first discovered the museum during the annual Biodiversity Day and after volunteering and interning for almost two years, Danielle became a paid intern. Her time and interest at the museum evolved into an Individually Designed Project (IDP) to fulfill her UHP Year 3 curriculum. At the time that she was deciding what to do for her project, the museum also decided it wanted to revamp one of its exhibits. Seeing this opportunity, Danielle focused her IDP on museum curation—specifically creating an educational section regarding the Pacific Flyway.
She admitted that this concept was not one that was talked about often by the general public, which meant she had a lot of research to do in order to create a credible and accurate display. While the library has always been a known resource, she didn't realize how much more it had to offer.
During Fall quarter of her sophomore year, her Honors Course Performance and Culture Among Native Americans (NAS 125) led her to learn about librarian specialists. Keeping this in the back of her mind, Spring quarter came around and she realized the project she wanted to do. She made an appointment with librarian, Ruth Gustafson, who specializes in wildlife, fish, and conservation biology, who introduced her to a multitude of books regarding her research. From there, she was able to locate specific books she needed, including one that discussed the Sacramento area in regards to the Pacific Flyway. 
She also discovered a special collection area where she found just the book she needed, A Jewel in the Pacific Flyway by John B. Cowen. However, this special collection area came with some rules—no pens, mark where you sit, and only being open some days of the week. While these rules seemed a bit daunting, the area's rules fortunately worked with Danielle's schedule and she came in every week for 6 weeks in order to read a chapter or two each session. Danielle was grateful that she was able to talk to the librarian specialist in order to get the books and information she needed, especially on a topic that wasn't widely known.
In addition to her extensive library utilization, she also worked with her mentor Andrew Engilis, Principle Curator of the Museum of Wildlife and Fish Biology, the School of Education, and Design Professor Tim McNeil, as well as focused heavily on the resources provided by the Cornell Lab of Ornithology.
"It's important to utilize your resources and look for them. It's your tuition that is paying for it all."
Danielle credited her IDP for her growing confidence in research as well as her willingness to do things for more than just a grade.
As she continues into Year 4, she is considering a Signature Work project at the museum to do more research regarding the Pacific Flyway. She'd also like to do more work at the Sih Lab regarding behavioral studies with fish. She will be taking part in a marine biology program in Australia next fall as well as continuing to work with Davis area museums and wildlife.
If you would like to get involved with the Museum of Wildlife and Fish Biology or any museum on campus, consider visiting their websites or museums in person. There are many museums UC Davis offers where you can also volunteer and intern, and plan for events such as the annual Biodiversity Day. In addition, the Nest Box Season program happens every Spring quarter and helps students get field experience.
Danielle's exhibit will open near the end of Spring Quarter 2019.
Category
Tags