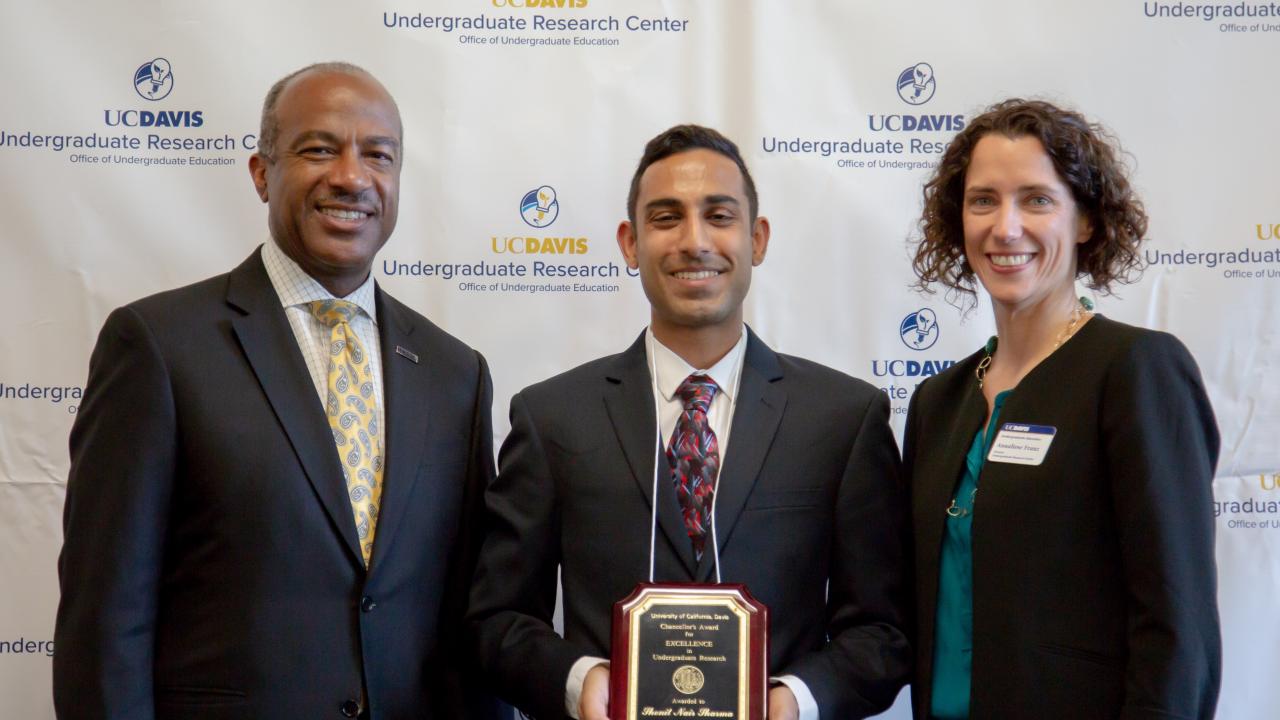 By Raven Barbera and Elysia Frink
Shonit Sharma, a 2018 University Honors Program graduate, was awarded the 2018 Chancellor's Award for Excellence in Undergraduate Research. This prestigious award recognizes undergraduates who have committed themselves to exceptional research and exploration. Chancellor Gary May and Annaliese Franz, the Faculty Director of the Undergraduate Research Center, honored Shonit for his impressive research accomplishments as an undergraduate.
Sharma was also awarded the 2018 UHP Student Research and Innovation Award for his dedication to academic rigor, creativity, and learning through a research project. By participating in research, Sharma was able to work toward solving problems and contributing knowledge to his field of study, biomedical engineering. He has also been an active peer mentor, according to UHP's Director Dave Furlow, who stated that "Shonit has been an outstanding peer mentor for students interested in getting involved in research on campus." Sharma "enthusiastically embraced" the curriculum of UHP's third-year Research Preparation, Conduct, and Communication course by developing a strong research proposal and providing feedback to his peers.
As part of UHP's fourth-year curriculum, UHP encourages students to dive into research with their senior capstone. By creating a signature work, UHP gives students the opportunity to take what they have learned in the classroom and apply it to real-world situations. Each year, UHP recognizes one student from the graduating class for excellence in research with the UHP Student Research and Innovation Award which they receive at the annual Spring Banquet celebration for the graduating students.
As a Biomedical Engineering major, Sharma researched potentially life-saving materials in order to aid in treatment for the leading cause of death worldwide; ischemic vascular disease, which includes coronary heart disease and carotid artery disease. The research team he was a part of tested degrading hydrogels – by engineering different blends of hydrogels, they were able to control the release of treatments. With future tests, this technology could be used in multiple contexts, including gene therapy to treat ischemic vascular disease.
In addition to the above awards, Sharma has been a prolific presenter of his work having presented at six conferences during his undergraduate career. Most notably, Sharma was recognized as the Harvard 2018 National Collegiate Research Conference 1st Place Poster Presentation for Engineering, Mathematics, or Computer Science, one of 12 nationwide Harvard 2018 NCRC Plenary Speakers, and was also the 2nd-author in a publication in Acta Biomaterialia, a top biomaterials research journal. Throughout his undergraduate career, Sharma illustrated the drive and dedication that is necessary to be an influential researcher and he hopes to continue his enthusiasm for innovation into medical school.
Category
Tags