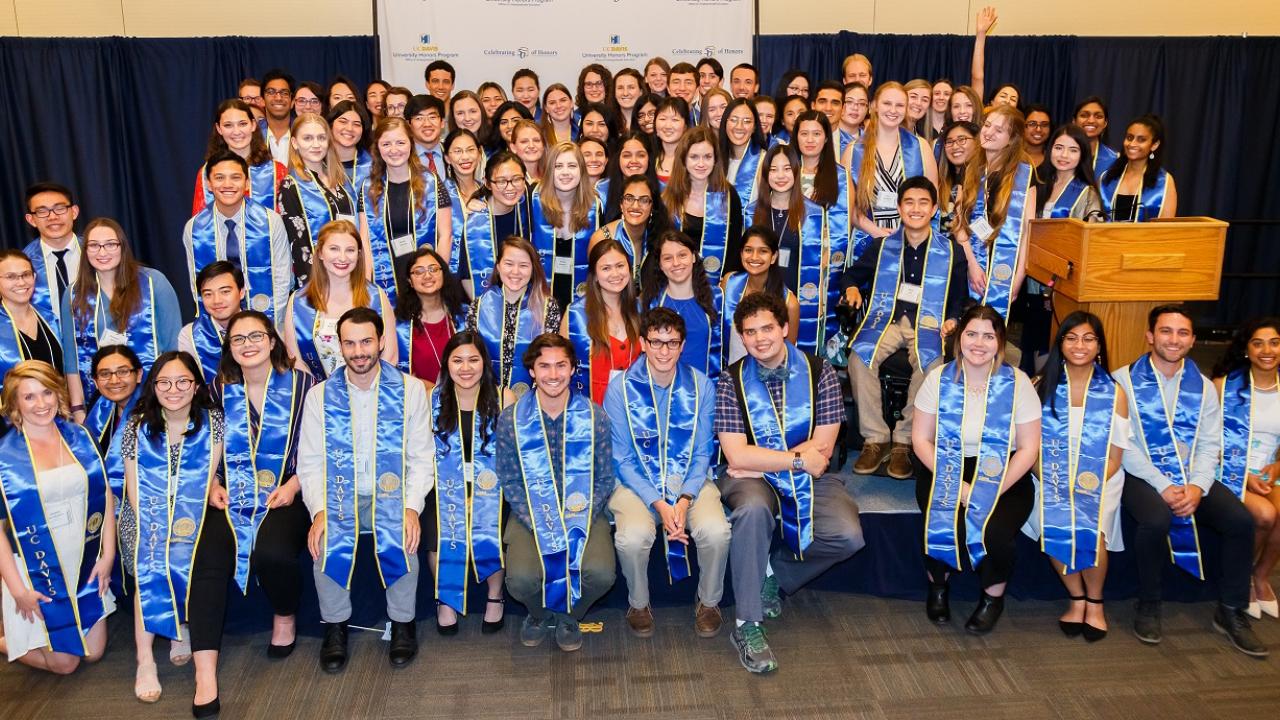 Each year the University Honors Program hosts an end-of-the-year Spring Banquet celebration for our graduating seniors. This year a record 116 Honors graduates walked across the stage at Spring Banquet.
Spring Banquet is a formal dinner and celebration that gives students the opportunity to celebrate their accomplishments in a small, intimate setting with their peers and families. As they walk up to the stage, students are greeted by the friendly and familiar faces of the UHP and Undergraduate Education leadership team who have supported them throughout their years at UC Davis. Every student not only hears their name read aloud, but also their own reflection about their UHP Signature Work, advice to future students, their post-graduation plans, their career goals, and their favorite UHP memory.
At Spring Banquet the UHP Faculty Awards and Student Awards are also presented. Each year students nominate their favorite professors who have taught for Honors for the Outstanding Teaching Award, as well as faculty across campus who impacted them deeply outside of the classroom for the Faculty Mentorship Award. The two faculty award winners are acknowledged for the differences they have made in students' lives both inside and outside of the classroom. Students are also recognized for their contributions in three areas: leadership, research and innovation, and community service.
In past years the recipient of the Outstanding Teaching Award has delivered the evening's keynote speech. This year, however, UHP broke the tradition and students heard a keynote from one of their fellow graduates, Student Leadership Award winner Jennifer La. Speaking about her own experiences of living in the Honors Living-Learning Community, the pressure of maintaining an honors GPA, and how she transformed as a person throughout her undergraduate journey, Jennifer reminded this year's graduates to remember all of the people who have helped them get where they are today.
Graduates by the Numbers
For their Signature Work, students complete either a Thesis in the Major, an Engineering Design Project, a UHP Thesis, or a UHP Project. While most students complete a thesis through their major, students are also given additional options to complete their UHP curriculum that allows for engineering projects, creative works, and research outside of the major. This year's graduates completed:
9 Engineering Design Projects,
71 Theses in the Major,
15 UHP Projects, and
21 UHP Thesis.
UHP is also proud to graduate students across all colleges disciplines. This year's Honors graduates continued the trend of representing each of UC Davis's colleges:
College of Agricultural & Environmental Sciences: 31
College of Biological Sciences: 26
College of Engineering: 7
College of Letters & Science: 52
Category
Tags