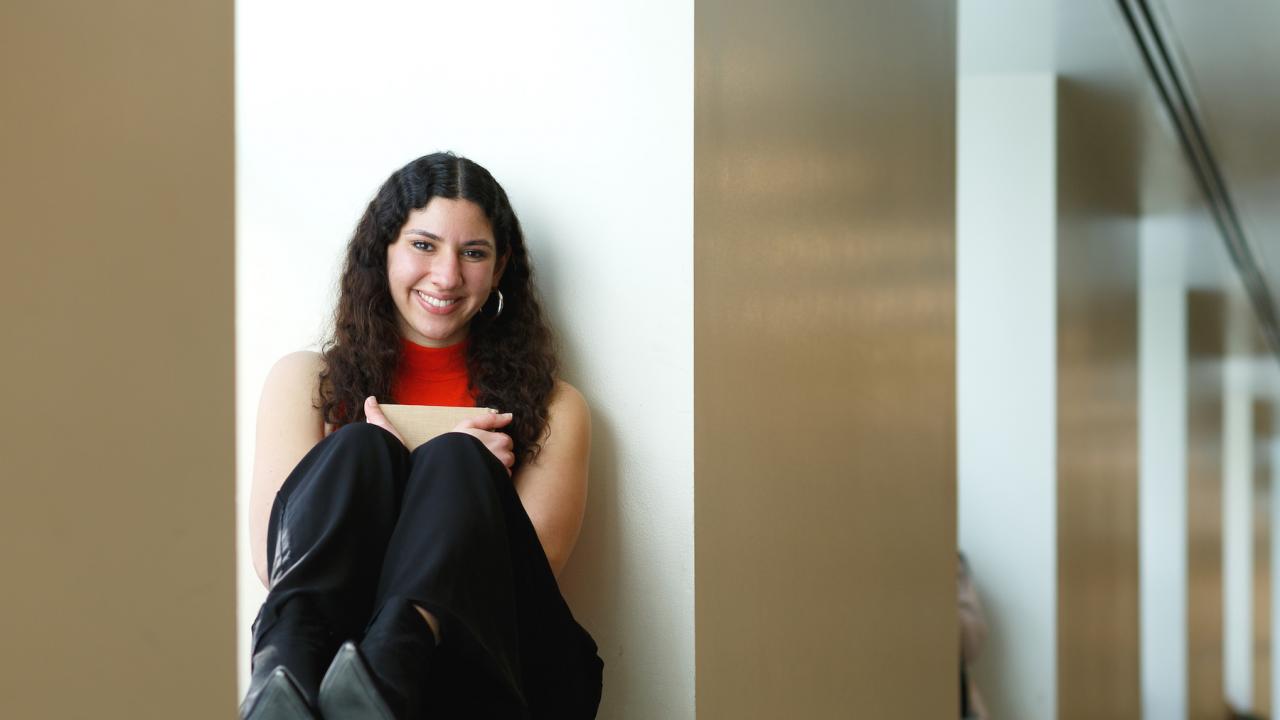 UC Davis English major will study climate fiction from a human rights perspective.
Literary scholarship at the nexus of human rights and climate change has earned English major Jumana Esau '20 a prestigious Gates Cambridge scholarship. The scholarship will fully fund Esau to earn her Master of Philosophy in Criticism and Culture at the University of Cambridge, where she plans to study climate fiction with the author Robert Macfarlane. Building on her undergraduate thesis, her research will focus on climate narratives written from the perspective of marginalized communities and developing countries.
Climate fiction is an emerging genre focused on the consequences of climate change in a near-future world. While best-selling novelists such as Ian McEwan, Barbara Kingsolver, and Jenny Offil have penned cli-fi novels, Esau's research focuses on lesser-heard voices from countries that are disadvantaged by the control more powerful nations exert over resources such as water supply, as well the effects of the world's largest polluters.
Esau brings a powerful perspective to the emerging genre. A Palestinian-American, she grew up traveling between the U.S. and Jordan, where she has witnessed climate-induced drought.
Water is being siphoned off from the Jordan River, with extreme heat and drought affecting the region," she says. "I'm watching the country I was raised in slowly evaporate."
Her experience informs her view of climate change as a human rights issue. In time, she says, "most refugees will be from eco disasters. Look at flooding in Bangladesh, look at Jordan's disappearing water. Where will people from these places go when they no longer have a home?"
Human Rights, Identity, and the The Article 26 Backpack™
Esau gained first-hand awareness of the plight of refugees through her work on the The Article 26 Backpack™ program, which helps displaced people to reconstruct and store their educational credentials through a cloud-based app. When refugees flee without possessions from a country destroyed by war, it can be almost impossible to resume a career or an advanced education. Years of professional training and experience can be erased from one's historical record.
Fluent in Arabic, Esau volunteered at events in the Sacramento area where, along with speakers of Farsi and Spanish, she helped refugees to create online educational profiles and translate any documents they had brought with them.
Esau joined the Article 26 team as a sophomore when she took Professor Keith Watenpaugh's Human Rights class with the University Honors Program. "We read Palestine by Joe Sacco. I talked with Dr. Watenpaugh after class and told him I'm Palestinian, I lived in Jordan. Reading that book in class emboldened me," she said. "Being Palestinian is a part of my life that I've sometimes been told to conceal. I learned to present myself in a specific way: 'Keep the American part on display, speak with an American accent, if someone says my name wrong don't correct them.'" Watenpaugh's class and her work with displaced refugees helped her see the value in her identity: "It just helps to have someone from a different culture or is a hyphenated-American."
Why use fiction to advance human rights and scientific policy? While she is considering a future in law, Esau is keenly aware of the power of storytelling to move hearts and minds in a polemicized world. 
The Gates Cambridge Scholarship
The Gates-Cambridge Scholarship program was launched in 2000 with a $210 million donation from the Bill & Melinda Gates Foundation. The selection criteria for the scholarship are outstanding intellectual ability, reasons for choice of course, a commitment to improving the lives of others, and leadership potential.
She is the third UC Davis student to receive the scholarship. Her predecessors, Nitika Mummidivarapu '19 and Alice Adriaenssens '09, both majored in biochemistry and molecular biology.
Related Links:
Category
Tags