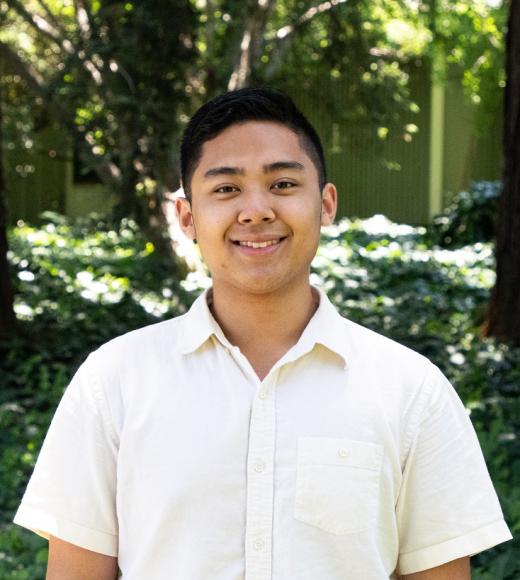 Unit

Neurobiology, Physiology & Behavior

Psychology
Bio
Hometown: Elk Grove, CA
Future Career: Medical Field: Neurobiology, Sports Medicine, and/or Nursing
Personal Interests: playing & watching all sports (big fan of Giants, 49ers, Warriors, & Sharks), playing video games, hanging out & eating food with my family & friends.
Campus Involvement: Regents Scholars Society, National Society of Collegiate Scholars Treasurer, UC Davis Medical Center Internship Intern, Research Assistant in the Furlow Lab, Science Olympiad Officer, Rec Sports Athlete.
How I can help you: As your peer mentor, I can offer helpful advice to guide you through a fun and successful freshman year. I can share what I've learned from my personal experiences, such as classes to take, places to visit/study/eat, and events to attend, all of which can help you make the most of your college experience.
When I started at UC Davis: I was mostly nervous about making new friends and living away from home, but looking back, I realize I had nothing to be worried about at all. Being in UHP and living in the honors dorm made it super easy to meet and connect with all kinds of amazing people. My new friends and the memories we made together are what make UC Davis feel like my home away from home. I was mostly excited about all the opportunities our great school has to offer. Anything from hundreds of research lab and internship positions to another world of clubs and recreational sports, UC Davis truly has something for everyone. As a third-year student, even I am still having fun exploring all the perks of life as an Aggie.
Advice for incoming first-year UHP students: In this new chapter of your life, it's going to be very easy to get caught up in all the stress and fun of things. That's why one piece of advice I have is to take the time to find and maintain the balance between studying and socializing that works best for you. Your academic and social lives are very important to a successful and memorable college career, and I can't wait to be able to help you out with both and beyond.