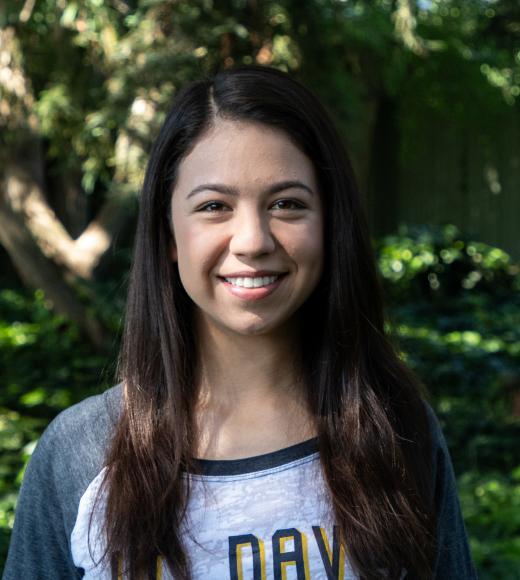 Bio
Hometown: Anaheim, CA
Future Career: As long as I work with animals, I'll be happy!
Personal Interests: TACOS, Harry Potter, playing IM soccer with friends, burritos from Guads, naps, horses, tech theatre, and making memories.
Campus Involvement: I am almost always found at the UC Davis Horse Barn because I'm one of the student residents there. I am also a member of the professional agricultural sorority Sigma Alpha. I've played IM soccer for two years now, and I spend a lot of time with the friends I made in the dorms. I'm also currently training to be a large animal veterinary technician at the UC Davis Veterinary Medicine and Teaching Hospital.
How I can help you: I'd love to be one of the first people you realize you can talk to about anything here. While I look forward to helping you with schedules and classes, talking to professors and sending emails, or studying for your first round of college midterms, there's so much more to Davis than this. What I'm more excited for is helping you with the little things that make up the rest of your college experience. This includes everything from roommate struggles, to navigating through the best eateries downtown, to finding who and what makes you happy here, and much much more. I can't wait to meet you and hopefully be a helpful guide on your journey as a new Aggie!
When I started at UC Davis: I was most worried about being so far away from home and leaving my family, friends, and all I'd ever known. I didn't know if I'd be able to find my place and my people on such a big campus. I was also nervous about transitioning to a college-level academic workload and wondered if I was going to be smart enough to succeed here at Davis like I did in high school. Finally, I was scared that I wouldn't be brave enough to take advantage of all of the incredible opportunities this university has to offer.
More than anything, I wanted college to be my fresh start and the place where I could finally thrive in my dream field. I was also thrilled to meet the friends that I'd keep for the rest of my life and make memories I'd never forget. Finally, I was and still am excited to see how far I can go here and who I'll become in the next two years and beyond thanks to all that I will experience here.
Advice for incoming first-year UHP students: First and foremost, recognize that you, without a doubt, belong here at Davis and in this program. Second, realize that there are so many people who want you to succeed including your fellow Aggies, professors, counselors, advisors, and me! Finally, college is full of opportunities just waiting for you reap the benefits of, but it's okay to do only what you can handle to maintain both your mental health and happiness, which are the most important of all.